Film Production Survey for Municipalities, Locations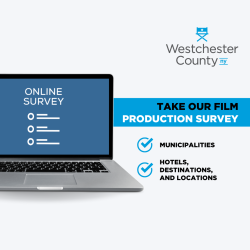 The film industry is growing in Westchester! To accurately measure its impact, and to assess your interest in filming, we're asking our partners that hosted any media production during 2020 or 2021 – including filming, overnight accommodations, basecamps, parking, holding or catering – to please complete our confidential economic impact survey by Friday, November 11. 
Your answers will help us to provide better support services for facilitating local productions and aid our marketing Westchester County as a top-tier location for film and television production — generating economic activity and revenue for your location.
Survey links: