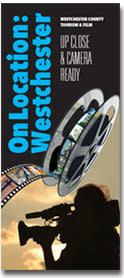 We're easy to get to and easy to work with. Just give us a call. We'll help you find the right spot for your next production. Read our brochure for a general overview.

Resources
Find crews or vendors, list your property as a film location, plan your stay in Westchester County, and learn about the NYS film tax credit. 
About Us
Need some help? Let the Westchester County Film Office serve as your concierge, from selecting the perfect location to planning and executing your commercial, television or film production.
News
Read our press coverage and our film office blog to learn what's happening in the world of film in Westchester.
Filmed in Westchester
More than 160 feature films have been filmed in Westchester since 1965, plus many television series, commercials and music videos.
Payment portal
For prearranged transactions only.