Westchester has outstanding air and ground transportation including Westchester County Airport (HPN), Metro-North Railroad with service from/to Grand Central Terminal, three Amtrak rail stations, and several parkways and major highways.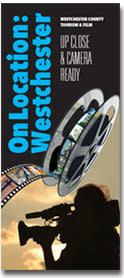 We're easy to get to and easy to work with. Just give us a call. We'll help you find the right spot for your next production. Read our brochure for a general overview.

About Us
Need some help? Let the Westchester County Film Office serve as your concierge, from selecting the perfect location to planning and executing your commercial, television or film production.
Locations
We'll help you find a location for your next production. Visit and like the Westchester County Film Facebook Photo Gallery on Facebook. Additionally, location scouts can learn more about the many characteristics of the county in the Westchester's communities section and where to contact municipal and other permitting authorities.
How to Film in Westchester
We aim to make it easy, but there's still some paperwork involved in filming. A letter of intent and permits are required. This Web site provides you with information on permits and other resources to make your production a success.
New York State Incentives
Learn about New York State's extensive tax credits and sales tax exemptions.
News
Read our latest press releases and our film office blog to learn what's happening in the world of film in Westchester.
Filmed in Westchester
More than 160 feature films have been filmed in Westchester since 1965, plus many television series, commercials and music videos.