Rye Brook
This tiny quintessential bedroom community—less than 10,000 people live within its three-and-a-half miles—is particularly desirable for families. Life in Rye Brook, known for its excellent, private school-like educational system, revolves around the kids, their activities and the schools.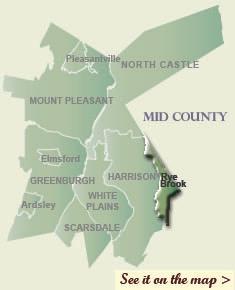 The town is especially tight knit and those who live here boast of knowing that they can really count on their friends and neighbors for anything—from the proverbial cup of sugar to a last-second lift home from softball practice.
Not surprisingly, visitors - families and business travellers alike - can enjoy the quaint town of Rye Brook too by reserving a room at the world-class Hilton Westchester.
Rye Brook has:
Crawford Park: Covers more than 35-acres between North Ridge Street and Lincoln Avenue in Rye Brook and includes gardens, lawns, woods, a walking/jogging path, playing fields and a historic mansion.
The Doral Arrowwood Hotel and Conference Center: a 473,000-square-foot golf club, located on 114-acres of rolling hills in Rye Brook.
For more information about Rye Brook, visit these sites:
Port Chester - Rye Brook - Rye Town Chamber of Commerce