Mount Kisco
One of the most diverse towns in Northern Westchester, Mount Kisco is home to both retail giants and one-of-a-kind, upscale boutiques. It is also well known for its varied and vibrant dining scene, offering cuisine from all over the world.
Mount Kisco was founded in 1850 shortly after the arrival of the railroad. It included two small settlements called Kirbyville and New Castle Corners. Kisco is derived from an Indian word –either kiskamenahook, meaning "settlement near a brook," or cisqua, meaning "a muddy place." Mount comes from the 623-foot hill northwest of town.
There is a statue named "Chief Kisco" in Mount Kisco. Although there never was a real person with that name, Chief Kisco rules over the village from his perch at the intersection of Routes 133 and 117.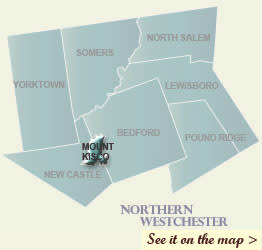 Mount Kisco has:
Only 3.25 square miles, a population of 9,983 and includes 3,993 households per the 2000 census
Westmoreland Sanctuary:  Surrounded by wooded countryside and suburban areas, Westmoreland's 640-acres offer a variety of activities to its more than 30,000 annual visitors.
Grand Prix New York, offering visitors the ultimate indoor racing and go-karting experience
Northern Westchester Hospital, one of the county's larger state-of-the-art medical facilities
For more information about Mount Kisco, visit these sites: