Yorktown
In Yorktown, you'll find the coming together of the conveniences of city life with the peacefulness of the countryside. The Jefferson Valley Mall and downtown shopping centers give convenient access to an array of retail and entertainment options, while the North County Trail and Kitchawan Preserve provide an escape into the wooded hills of Westchester County.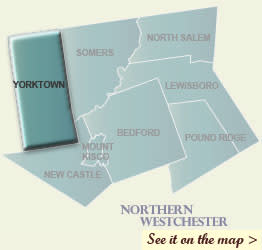 Yorktown has:
John E. Hand Memorial Park at Bald Mountain: A 112-acre park consisting of native woodlands with excellent hiking opportunities and a spectacular view from the top.
Kitchawan Preserve: Hiking and walking trails, nature study.
Yorktown Stage:  Featuring the "Best in Family Entertainment" with live musicals and theatre camp workshops.
The Yorktown Museum: A place to discover the Old Put Railroad and see how local farms operated, or to find unique gifts, enjoy fascinating and detailed miniatures and conduct research.
For more information about Yorktown, visit these sites: