Pleasantville
Located in the center of Westchester County, Pleasantville is an easily reachable location from any direction by the large number of highways and major roadways that are near to it.
Home to the Jacob Burns Film Center and an irresistible collection of small boutiques, restaurants and shops, Pleasantville is a cultural and artistic hub.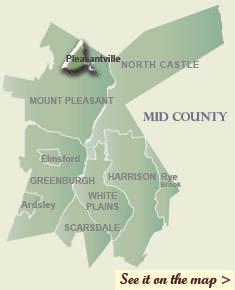 Pleasantville has:
The Jacob Burns Film Center and Media Arts Lab: The Jacob Burns Film Center is a world-renowned cultural space, dedicated to presenting the best of independent, documentary and world cinema.  Housing a state-of-the-art theater complex, a 27,000 square-foot Media Arts Lab and a residence for international filmmakers, it provides opportunities for people of all ages to discover, explore and learn through the power of film, media and 21st-century technology.
The Pleasantville Farmers Market is currently ranked 23 in the Top 100 Most Celebrated Farmers Market list and leads the state of New  York in the I Love My Farmers Market Celebration, hosted by American Farmland Trust. Pleasantville has one of the largest markets in the region, with more than 50 vendors and weekly live music, as well as a Market Sprouts program for kids, culinary demos, and health and sustainability programs.
For more information about Pleasantville, visit these sites: