Elmsford
Situated at the crossroads of major highways I-287, the Saw Mill Parkway, the Sprain Brook Parkway, Route 9A and Route 119, Elmsford is easily accessible by car.
Elmsford is home to an array of indoor family-fun facilities including Sportime USA, with batting cages and an arcade area; Westchester Skating Academy; and the renowned Westchester Broadway Theatre, which continually features productions of Broadway's most beloved musicals.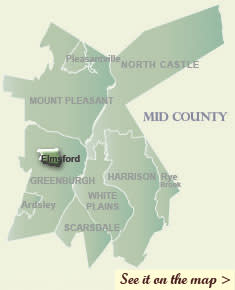 Elmsford has:
The railway that once ran through Elmsford has been split into two bike paths for pedestrians to enjoy—the North County and South County Trailways both end at Elmsford.
Elmsford Raceway: A state of the art slot car racing center that offers fun for the whole family.
 Westchester Skating Academy: Offers public skating, lessons and league play.
Westchester Broadway Theater: The only theatre of its kind in Westchester and New York State's longest running year-round Actors Equity theater, it is where Broadway performers, directors and designers gather to create superb musical theatre.
For more information about Elmsford, visit these sites: