Farms
Farms of all kinds dot Westchester County, an area long associated with farming and agriculture. Many of the farms in Westchester are family-owned and operated, some dating back 300 years. Each farm offers a variety of products and farm experiences; some offer certified organic produce or meats or have taken the NOFA (National Organic Farmers Association) pledge to farm in accordance with sound economic and ecological principles.
 
Westchester Farm Trail
The Westchester Farm Trail is a state-designated route connecting 13 farms and orchards from Sleepy Hollow to North Salem. Along the 17-mile trail, there's no shortage of things to do. Hands-on experiences such as making maple syrup, interacting with livestock and even doing the farm chores let you immerse yourself in a day in the life of a farmer. Don't miss the great tours, demonstrations and seasonal events each farm offers.

Taste the bounty of our region and support local farmers on the Westchester Farm Trail, a fun and informative journey through our rich pastoral heritage and our sustainable—and delicious— agricultural path forward.

So come discover Westchester County's incomparable farming experiences and see firsthand what makes Westchester County a destination like no other.
Westchester farms included in the official Farm Trail include: (map below)
Be sure to check the farm's website for special operating hours and safety protocols.
1. Alfred B. DelBello Muscoot Farm
A perennial family favorite, this historic farm harkens to the early 20th century. Experiences encompassing kid-friendly events, demonstrations, farm animals, tours, hayrides and hands-on fun include learning to make maple syrup or participating in farm chores. Open daily 10 am–4 pm. 51 Rte. 100, Katonah, (914) 864-7282
2. Fable: From Farm to Table
Modern, organic and sustainable farming methods produce a variety of foods and goods including vegetables, eggs, honey, and more. Visit the on-site market or place an order for Barnside Pickup. Open year-round Friday through Sunday from 11 am–3 pm. 1311 Kitchawan Rd., Ossining, (914) 862-0205
3. Harvest Moon Farm and Orchard
Popular with families for U-pick apples September through October, it also offers seasonal free-range chicken and quail eggs, tomatoes, blueberries, non-GMO corn and grass-fed beef. Check the website for current hours of operation.130 Hardscrabble Rd., North Salem, (914) 485-1210

4. Hemlock Hill Farm
Worked by three generations of the same family since 1939, the farm raises Black Angus cattle, Pekin ducks, lambs, chickens, goats and pigs. Visit its market for custom butchered meats, eggs, produce, local cheeses, honey and more. April–December, daily 8 am–6 pm; January–March, Saturday only. The store is open yearround, Monday through Friday 9 am–6 pm, Saturday 7:30 am–5:30 pm, and Sunday 7:30 am–2 pm. 500 Croton Ave., Cortlandt Manor, (914) 737-2810
5. Hilltop Hanover Farm and Environmental Center
Dedicated to developing and advancing sustainable agriculture, environmental stewardship, community education and accessible food systems, the farm offers hands-on practical lessons. It has eight acres of vegetables, herbs and flowers; three greenhouses; a composting facility; a farm stand; beehives and livestock. Don't miss the market on Fridays and Saturdays and U-pick produce in season. Visit the website for schedule and opening days.1271 Hanover St., Yorktown Heights, (914) 962-2368
6. The Meadows Farm
Rotating through the seasons, this lovely 100-acre historic farm offers spring greens, summer corn and tomatoes, and harvest-time pumpkins and gourds. Open May–October, Monday–Saturday 9 am–6 pm; Sunday 9 am–5 pm. 329 Underhill Ave., Yorktown Heights, (914) 962-4306
7. Purdy's Farmer and the Fish
This community-oriented restaurant lets you enjoy locally grown food and high-quality seafood. The Farm Shop features fresh produce from the farm, fresh fish from the restaurant's exclusive seafood supplier, Down East Seafood, prepared dishes, meat, cheese and dairy products from local farms, house baked goods, coffee, dry goods, specialty items and more. The shop is open seven days, Monday–Saturday 10:00 am–8:00 pm, Sunday 10:00 am–4:30 pm.100 Titicus Rd., North Salem, (914) 617-8382
8. Ryder Farm Cottage Industries
Organic since 1978, this family farm operates a roadside self-serve stand that sells all sorts of green goodies. Check website for farm dinners and other events. Open in season from dawn to dusk. 400 Starr Ridge Rd., Brewster, (646) 833-8159
9. Stone Barns Center for Food and Agriculture
Spend a day walking the 80-acre former Rockefeller estate, touring fields, greenhouses and pastures designed to demonstrate sustainable agriculture. When you're done, wind up at the Blue Hill Grain Bar, a café that exemplifies all the progressive practices you've just witnessed. Don't leave without visiting the Farm Store for vegetables, eggs and meat, plus handcrafted goods, books and gardening supplies. Check website for information about ticketed admission, opening times and special events. 630 Bedford Rd., Pocantico Hills, (914) 366-6200
10. Stuart's Farm
The oldest apple orchard in Westchester County, the property includes a circa-1760 farmhouse. Look for 20 varieties of apples available in its popular U-pick schedule that starts on Labor Day. Also, there are hayrides on weekends, mid-September through Halloween, and a Christmas tree farm. Open May–December, daily 9 am–6 pm; November and December, weekends 9 am–5 pm. 62 Granite Springs Rd., Granite Springs, (914) 245-2784
11. Thompson's Cider Mill
Pies, maple syrup, apples, pears, and both sweet and hard ciders are available at Geoff Thompson's bucolic cidery that overlooks Swope's Pond. Open September–Thanksgiving, Saturday and Sunday 10 am–5:30 pm; Thanksgiving–December 22, Saturday and Sunday 10 am–4 pm. 335 Blinn Rd., Croton-on-Hudson, (914) 271-2254
12. White Oak Farm
Westchester County's only commercial producer of maple syrup dates from the 19th century. Its lovely grounds include restored barns, a sugarhouse, gardens and a working sawmill. A year-round market offers maple products, firewood, local honey and milled wood; December ushers in Christmas tree sales, too. Saturday and Sunday 10 am–4 pm. 680 Croton Lake Rd., Yorktown Heights, (914) 245-7535
13. Wilkens Fruit and Fir Farm
Not just for apples and pumpkins, this historic U-pick offers peaches in August and Christmas trees in November and December. Visit the on-site market for cider donuts, pies, sweet cider and more. Open August–December, 10 am–5 pm. 1335 White Hill Rd., Yorktown Heights, (914) 245-5111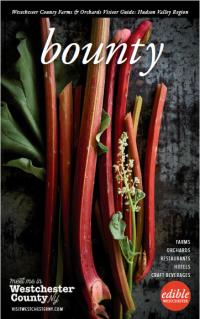 For more on Westchester's farms and orchards, view our Westchester County Farms & Orchards Visitor Guide.