Mamaroneck
Featuring a vibrant downtown dotted with antiques stores, restaurants and a picturesque harbor that beckons sunbathers in the summer, Mamaroneck draws visitors looking for shopping and relaxation. One of the oldest communities in Westchester County, the town was settled in the late 1600's after a London merchant purchased the land at the mouth of the Mamaroneck River from the Siwanoy Indians. Its first census, taken in 1698, counted 77 residents. Today, the town is a popular home for young commuting professionals, who can arrive in Manhattan in less than 40 minutes via Metro-North.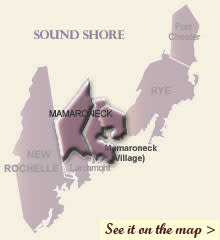 Mamaroneck has:
Hommocks Conservation Area: A 10.6-acre parcel comprised of woodlands, a salt marsh and meadow areas.
Leatherstocking Trail: A 2.5-mile long trail that runs from Pinebrook Boulevard in New Rochelle through the center of Mamaroneck to Rock Ridge Road in Mamaroneck Village. The Leatherstocking Trail is also the southern end of the Colonial Greenway Trail, a 15-mile trail system that connects local and county parks in Mamaroneck, Mamaroneck Village, Scarsdale, Eastchester and New Rochelle.
For more information, visit: