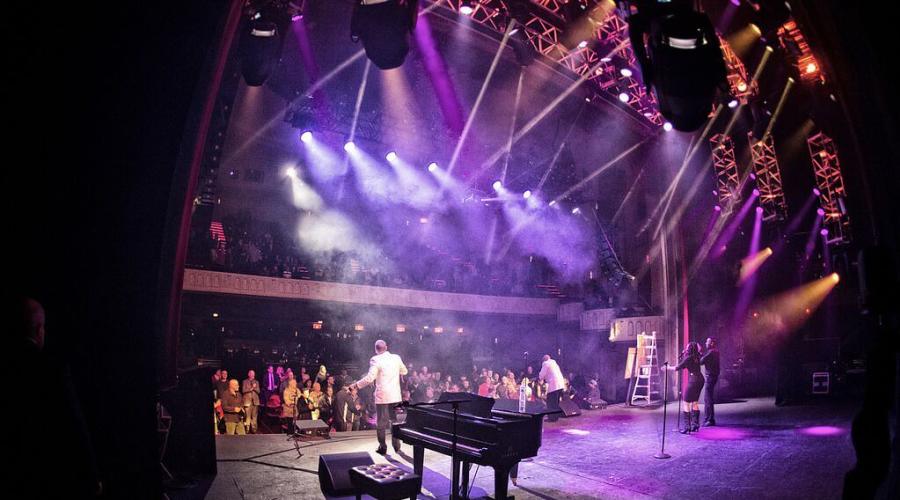 The Capitol Theatre in Port Chester, originally a luxurious cinema palace, is several film locations rolled into one. Not just a state-of-the-art concert stage, with breathtaking balconies, sumptuous staircases, dressing rooms and a classic box office, it also offers filmmakers a full-service restaurant, swanky lounge and a very urban courtyard and fire escape.
What's more, the theater's high-tech light, sound, and digital video projection systems, ample parking, location in the NYC film production zone, and film-friendly staff make it a location manager's dream.
The Capitol Theatre opened in 1926, when patrons paid a nickel to see a double-feature Sunday matinee. In the 1960s,  it came to be known as the "original rock palace," hosting legendary acts such as Janis Joplin, Pink Floyd, and the Grateful Dead, among others. Over the years, the facility went through several more iterations as musical theater, catering hall, and wedding venue.
Things changed again in 2012, when concert promoter Peter Shapiro opened a completely refurbished venue with all of the classical touches plus fully modernized amenities. Both intimate and grand, The Cap now hosts musical headliners as well production crews shooting feature films, episodic television shows, and commercial work.
Speak to The Cap's talented staff, and you'll discover why it's such a hot spot for film.
"A lot of people tell us there is just this 'wow factor,'" explains Emily Schmalholz, director of special events and the venue's liaison for film productions. "It's a classic 1920s grand theater with opulent architecture, beautiful touches, a 65-foot dome, and majestic chandeliers. So there's this unique combination of a historic beautiful location with state-of-the-art production value."
So many parts of the building can be used by productions, and they have, notes Schmalholz.
"For the drama 'Tales of the City' (Netflix, 2019), they were scouting for a nightclub setting as a recurring location. They ended up building a space within the theater, like a small sound stage. They filmed several days a month there and used the rest of the theater for production support."
The beauty of the location, explains Schmalholz, is the diversity of spaces. Large hallways, spacious dressing rooms, and outdoor areas can be used creatively to accommodate production needs. Whatever the request, Schmalholz and her team work hard to meet it. "One of our offices was transformed into a library for a shoot," she says.
The theater's location in the Village of Port Chester is a bonus for productions, according to Schmalholz. "The producers of 'Tales' not only took over our theater, but the three blocks surrounding it. We worked closely with them and village officials to provide generator power, spaces for craft services, even garbage pickup. It worked so well that the production is now a point of pride for Port Chester."
In "The Seagull," a 2018 feature film starring Annette Bening, The Cap's concert stage appears in opening scenes as a Russian theater.  In "Red Oaks" (Netflix), the lobby bar, Garcia's, was transformed into a 1980s comedy club. The theater has also served as a location for the "Riverdale" spinoff, "Katy Keene," set to debut on the CW Network in February 2020, and a commercial for a ePura, a Mexican water brand, among other productions.
The Capitol Theatre's talented and professional staff is also a big selling point. Schmalholz is a former television producer, for VH1, and honed her event management skills through her former event planning company and work at several large scale venues in the region, including Grand Prix New York.  
"I understand the productions from both sides," she explains. "Having produced music documentaries and other artist-driven shows, I know what it takes to make a production succeed. And I know the creative potential of The Cap. We have a great team here to make it all work."
For more photos, check out the Capitol Theatre's album in the Westchester County Film location gallery on Flickr.
Resources offered by the Westchester County film team include permit navigation and location scouting. Contact us for more information.