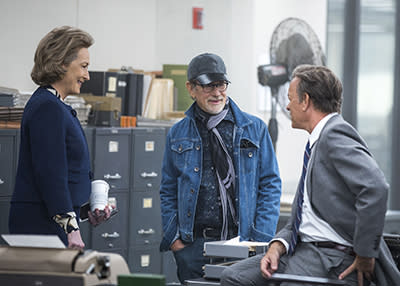 A look at Westchester County's filmography reads like the syllabus of a film master class. "Marathon Man," starring Dustin Hoffman and Sir Laurence Olivier, shot at Ward Pound Ridge Reservation for that 1976 film; "Wall Street," starring Michael Douglas, shot here in 1986; and "The Departed," starring Leonardo DiCaprio and Jack Nicholson, shot here in 2006.
This year, though, the steady trickle of feature films has turned into a mighty stream of activity. In fact, the county welcomed the "troika" of Hollywood directorial talent—Steven Spielberg, Martin Scorsese, and Barry Levinson—to Westchester in 2017 to film their latest projects.
Westchester has consistently attracted some feature films and a lot of episodic television shows that keep coming back for multiple seasons, such as "Orange is the New Black," "Billions," "The Americans," and "Blacklist," to name a few. This year, though, there's been a big uptick in feature film activity that's adding even more production days to Westchester's tally.
In addition to Spielberg's "The Post," Scorsese's "The Irishman," and Barry Levinson's Joe Paterno film tentatively titled "Happy Valley," here is a list of feature films and high profile projects that filmed in Westchester County in 2017:
Ben Is Back: Director-Peter Hedges; starring Julia Roberts, Lucas Hedges
Land of Steady Habits: Director-Nicole Holfcenter; starring Ben Mendelsohn, Edie Falco
Most Likely to Murder: Director-Dan Gregor; starring Rachel Bloom
Escape at Dannemora: Director- Ben Stiller; starring Benicio Del Toro, Patricia Arquette
Who We Are Now: Director-Matthew Newton; starring Zachary Quinto
311: Director-Spike Lee; starring John David Washington, Adam Driver
Maniac: Director-Cary Fukanaga; starring Emma Stone, Jonah Hill
Luce: Director-Julius Onah; starring Naomi Watts, Octavia Spencer
Mapplethorpe: Director-Ondi Timoner; starring Matt Smith, Carolyn McCormick
Puzzle: Director-Marc Turtletaub; starring Kelly Macdonald, Irrfan Khan
Vulture Club: Director-Maryam Keshavarz; starring Susan Sarandon
And, coming in 2018 – Goldfinch: Director-John Crowley; starring Sarah Paulson and Ansel Elgort.
Looking ahead, 2018 is expected to be another great year in film for Westchester. Demand continues to grow, and the volume of scouting requests continues to rise every year—as more productions discover Westchester County, they'll want to come back again and again.
Photo credit: Niko Tavernise