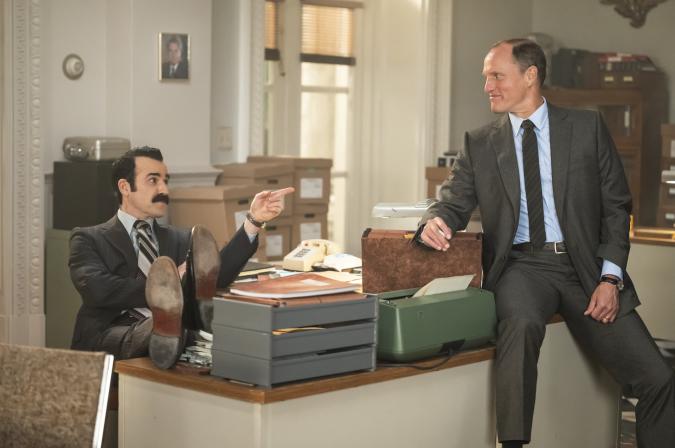 Photograph by Phil Caruso/HBO
HBO's new limited series tells the story of E. Howard Hunt and G. Gordon Liddy, the two men who masterminded Watergate, a scandal that eventually led to their own arrests as well as President Richard Nixon's resignation in 1974.  
The satirical drama takes the audience behind the scenes of the scandal, starting in 1971 when the White House hires Hunt and Liddy, former CIA and FBI agents played by Woody Harrelson and Justin Theroux, to investigate the Pentagon Papers leak. "White House Plumbers" sheds light on the lesser-known events that led to one of America's greatest political crimes, the bungled break-in of the Democratic National Committee headquarters at the Watergate building in 1972. 
While the action primarily takes place in Washington, D.C., the show filmed for several days in Westchester County, which offered producers the key looks needed as well as logistical support that made filming easier, according to Steve Grivno, location manager. We had the opportunity to catch up with him recently to learn about his experience filming in Westchester. 

Westchester County Film: The show is set in the 1970s. What was the aesthetic you were going for in this period show?  
Steve Grivno:  Our directive for aesthetics was mid-century modern. We were looking for old properties with dark wood, old floors, and original architectural details such as wall and ceiling molding, period doorknobs and windows, and marble. The world of "White House Plumbers" would exist in buildings that have existed since the 1800s and early 1900s as well as the newer architecture of that era, the mid-century stuff from the '50s and '60s. The locations department is tasked with finding the bones; the art department then removes items and adds set pieces to achieve proper décor of the time. 
WCF: Tell us about the scouting process. 
SG: We started prepping for the show pre-pandemic in New York City. Westchester is in the film zone, so we were sending scouts there quite often, especially in and around White Plains, which has mid-century architecture you might find in Washington, D.C. After [the pandemic hit] the studios and networks figured out how to work safely under new COVID precautions, we moved our base of operations to the Hudson Valley, which fortunately included much of Westchester in the convenient travel and labor zones, so we continued scouting there.  

WCF: Where did you film in Westchester County and where did those locations stand in for?  
SG: We filmed at the Michaelian Office Building in White Plains for interior federal Washington DC aesthetics including offices and hallways. That particular building feels very preserved and similar to what you might find in Washington, D.C. Luckily the folks there are very film-friendly and understand the filming process.  
We used the property at SUNY Purchase College for logistical parking support and access to Old Oaks Country Club next door, where we filmed interiors in their very old and beautifully preserved rooms. [The club was built in 1925]. We also filmed a few scenes on the golf course. Speaking of country clubs, we also filmed many interior and exterior scenes at Wykagyl Country Club in New Rochelle. The world of "White House Plumbers" explores status, including the clubs the characters had access to for family events and political networking.  
Finally, we also filmed at the Belvedere Estate in Tarrytown. The estate's preserved old-world interiors stood in for an embassy. 
WCF: How would you describe your experience filming in Westchester? 
SG: Great! We are lucky that Westchester County has a lot of filming history where the production process is understood by many people in the municipalities and communities. Bringing a large production anywhere has challenges, but Westchester gave us a welcoming feeling that made things fairly easy to navigate.  We would absolutely come back to film here.  
Westchester has so many great locations that are accessible for production. The folks we collaborate with have experience with films and television, which is a gigantic help.  

I'm glad we were able to feature a few locations in Westchester and bring some business and jobs to the area. Hopefully the show can provide a source of rewarding entertainment for the people we worked with and the general audience that will watch it.  
In addition to "White House Plumbers," Steve Grivno has worked on "Marriage Story" (HBO), "I Know This Much is True" (HBO), "The Last Man," (FX), and "Peripheral" (Amazon Prime). From Emmy® winners David Mandel, Alex Gregory and Peter Huyck (HBO's "Veep") and starring Woody Harrelson and Justin Theroux, the five-episode limited series "White House Plumbers" debuted May 1 on HBO and is available to stream on HBO Max.