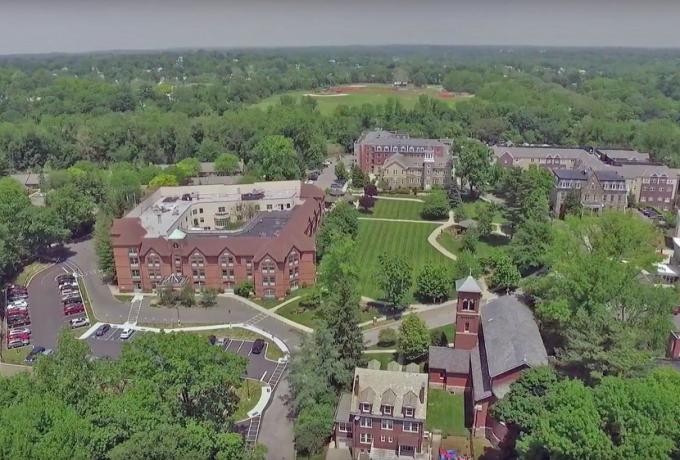 Need a hospital setting for your next production? How about a chapel, a condominium, meeting room or wide-open meadow? You'll find all of those backdrops and more at Wartburg, a 34-acre campus and senior living facility on the north side of the City of Mount Vernon. 
Just 19 miles from midtown Manhattan, within the New York City film zone, Wartburg is easily accessible from major highways. But what really sets it apart from other locations is its versatility, says Rose Cappa-Rotunno, vice president of institutional advancement and the primary contact for filming.
"We can transform our campus to meet production needs," she explains. "We can accommodate scripts that call for scenes set 150 years ago or for contemporary stories, too. We're a hidden gem in the city."
The park-like campus includes conference spaces, housing, a skilled nursing facility, an adult day -care center with a kitchen and outdoor covered terrace, and a village green surrounded by buildings that convey an academic, "old university" feel. A vacated floor in the nursing home includes individual patient rooms, a nurse's station, and medical files, making the Wartburg an ideal location for healthcare plots. ­
Wartburg has been used by several productions for filming including "Madam Secretary " (CBS), "FBI: Most Wanted" (CBS) and "Manifest" (Netflix).
When Manifest shot there in 2017, the production transformed the nursing home into a detention center for holding refugees. "Madam Secretary" utilized the entire campus, using it to stand in for a college hosting a convention. Both productions took advantage of the wide-open spaces on the property to accommodate production needs including craft services for the cast and crew and parking for large trucks.
"We do everything we can to work with productions to make things go as smoothly as possible," notes Cappa-Rotunno."We work both as a film location and as a base camp, making it very convenient and economical for productions."
Filming offers benefits for the Wartburg, too. "Our senior residents get very excited to be a part of the action, which becomes an enrichment opportunity for them," says Cappa-Rotunno. "We're thrilled to welcome the industry as it raises our visibility in the community."