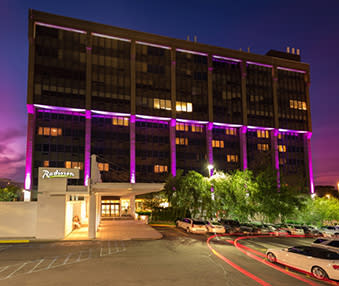 "Nearly every movie script includes a hotel lobby scene," said New York-based location manager Rob Striem at our recent "On Location Westchester" film production forum. "It's a nightmare. Most hotels won't shut down their lobby to honor a request like that!"
Yet, Mr. Striem and his colleagues will be pleased to know that a chic and centrally located hotel in Westchester is up to that, and many other challenges. The Radisson Hotel in the heart of New Rochelle is drawing interest from production teams due to its sophisticated, modern décor, its convenient location (less than 15 miles from New York City) and—a rarity in an urban location—its abundant and free parking.
With its seasonal pool and striking views of Long Island Sound, the Radisson offers many unique vantage points to help tell a film's story. It also offers a break from the traditional Westchester hotel layout. "Our hotel is a single tower, which is unique in this area," says Ms. Daroczy. Plush, jewel-toned couches are paired with creamy upholstered chairs and chrome accents to give the lobby a modern, Architectural Digest vibe.
The Radisson is the only full service hotel in New Rochelle, offering modern guest rooms that blend sleek lines with surprising details like tufted leather headboards and zebra-print easy chairs, and spa-like guest bathrooms. The hotel is also home to the popular restaurant, Noma Social, an upscale eatery and nightclub that's a popular destination for Westchester's see and be seen crowd.
Beyond its aesthetics, the Radisson has something even more important to offer: flexibility. Maura Daroczy, director of sales and marketing for the Radisson, experienced a film shoot where production needs changed dramatically while at another Westchester-based hotel, and uses that knowledge to make filming at the Radisson much easier.
"The shoot was for 'Orange is the New Black,'" she notes. "Some of the hotel policies created limitations that required extra negotiation and compromises to make it work for the film crew." While the Radisson's first priority is guest comfort, they are flexible enough to be able to accommodate film crews, too." One sticking point with the OITNB shoot was the catering. "At the Radisson, we have no problem with productions using their own craft services," says Ms. Daroczy. "Although they might pay a room rental fee, outside catering is not an issue."
Parking woes also plague many film productions. "I've heard that productions will avoid New Rochelle due to lack of parking," says Ms. Daroczy. The Radisson owns a 200-car parking lot, and an additional  lot across the street, so parking is free and plentiful. Located just off route I-95, the hotel is a quick walk from Metro-North. The Radisson can also extend special discounted weekday room rates to film productions.
About that famous "lobby scene" that ends up in nearly every movie script, Ms. Daroczy notes that the Radisson New Rochelle has several welcoming entrances for guests. Depending on the day and time, she says, she might be able to work something out. "I'm so happy to be at a hotel property where we have the flexibility to deal with requests like that," she notes. Sounds like the Radisson New Rochelle is ready for its close up.