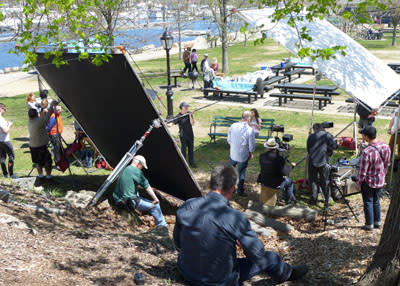 From The Wolf of Wall Street and Winter's Tale, to Inside Llewyn Davis and Ricki and The Flash, Westchester County is no stranger to the big screen. But what you may not know is that Westchester offers world-class backdrops for businesses to film their commercials for the smaller screen.
"I've worked on literally thousands of commercials for television and print, and I love working in Westchester," says veteran location scout, Ernie Karpeles (he's been in the business 35 years!). "It's close to New York City, easy to get to, and easy to navigate once you're here. Plus the Westchester County Tourism & Film Office really understands the needs of the industry."
Karpeles recently scouted Westchester and helped select the county's Glen Island Park for a shoot for Optimum. The story called for a medieval village and Karpeles saw potential among the ruins of the site's late-19th-century castle, which once served as a beer garden and restaurant at the summer resort once located on the island. "You take a lot into consideration when scouting—aesthetics, lighting, parking, logistics—so, I thought that particular backdrop would work if we just added a few medieval huts," Karpeles said, adding that Westchester County Parks were among several county locations offering the quick turnaround needed for business. "The Tourism & Film office made it happen."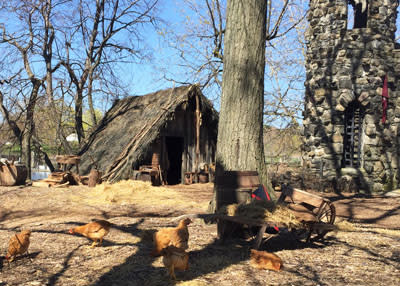 The production also called for scenes at a train station, and a baseball field, also available in Westchester. Larry Horodner, location manager for the Optimum shoot, had this to say: "From scouting to permitting and filming on location, working in Westchester was a smooth-running and positive experience. Everyone loved the location—which has a lot to offer creatively, and logistically. I plan on coming back to Westchester."
In addition to the county's prime location and film-friendly towns, a major reason to film in Westchester is the wide range of looks available, adds Karpeles, who has filmed everything from urban downtowns and suburban streets to farm animals, waterfalls, and romantic bridges—all in Westchester. His commercial projects include a yoy commercial at Ardsley's House of Sports; a lightbulb commercial at Ward Pound Ridge Reservation; a PSA with Mariano Rivera at Yonkers' Tibbetts Brook Park; a NBA commercial set in Maine but filmed at Peekskill's Bear Mountain Bridge; an election commercial for a political candidate at locations throughout the Westchester which represented locations all over New York State.
For more information on filming in Westchester, contact us. The Tourism & Film Office in Westchester County is a division within County Executive Robert P. Astorino's Office of Economic Development.