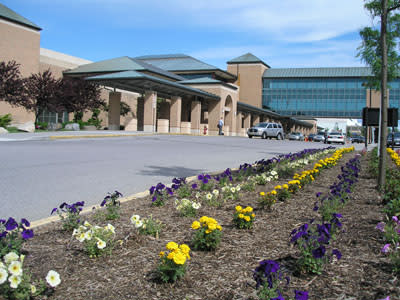 In film and television, airports are the setting for wild romantic gestures (picture the guy running through the terminal to catch the girl flying away forever), tense dramas and thrillers, and hilarious comedic moments. Remember Steve Martin's infamous encounter with a ticket agent in Planes, Trains and Automobiles? Or, how about Ben Stiller, waiting for the gate agent to call his row for boarding in a nearly empty departure terminal in Meet the Parents? With the dramatic backdrop of jumbo jets taking off, it's no surprise that scenes filmed in airports translate into some of film and television's most memorable moments.
Location managers take note! It's easy to film at Westchester County Airport in White Plains, New York. "There are no layers of bureaucracy here," explains Stephen Ferguson, assistant airport manager. "We have a great relationship with Westchester County Tourism & Film. After filing a letter of intent with the office, we can get a contract done quickly and coordinate the production details. We're easier than dealing with the Port Authority in New York City, and more affordable, too."
Many others agree. Meet the Parents, This is Where I Leave You, and the upcoming The Family Fang, and The Great Gilly Hopkins all filmed scenes at this bustling regional airport. Popular television shows like The Blacklist regularly film there as well.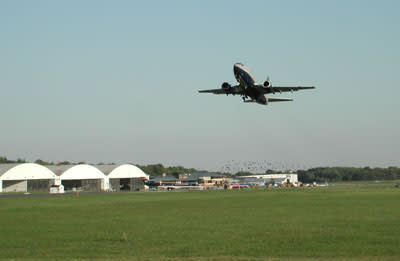 Commercial and Private Aircraft Rely on Westchester
There's tremendous activity at the Westchester County Airport on a daily basis: 450 takeoffs and landings a day, including 84 scheduled flights with six commercial airlines according to Ferguson. The airport is home to 90 business jets and 280 light twin engine and single engine planes which may be used for filming.
"We have assets that are second to none," says Ferguson. "We are one of the largest corporate airports in America," he points out. "For productions looking to film scenes in private hangars and luxury jets, this is the place to be—New York City's airports don't offer filming with corporate jets. We're seeing a lot of increased activity in this area, for example, Law and Order has used our business jets for filming."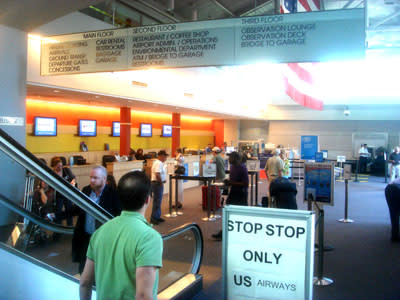 Film Day or Night: "We never close."
As for locations inside the terminal, Ferguson said productions have two great options: use the departure lounge, ticket lobby, and arrival/departure gate area from 10 p.m. until 3:30 a.m., or use the third floor of the terminal during the day and night. 
"We never close, so if the night option is chosen, we can't guarantee a flight won't be delayed and an unexpected crowd won't file through your production. However, it's a great location that requires little set up. On the other hand, the third floor has great views of the tarmac, and productions can improvise and create their own custom baggage claim, ticket window and waiting area. That can be enticing, too."
The airport can also accommodate student films, and is quite popular with students from New York University's Tisch School of the Arts, as well as Purchase College SUNY students, who attend classes nearby. It's also a popular place for photo shoots and commercials; Verizon and AT&T have recently filmed television spots, and several more companies have requested to film general airport footage.
"It's always exciting to work with film and television crews," says Ferguson. "We aim to be flexible and make the experience easy and productive for the industry."