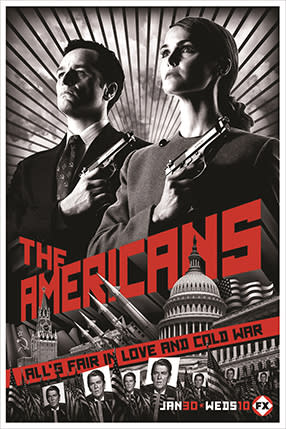 Coincidental or causational—however you look at it, filming in Westchester County is a good thing. Just ask the actors, writers, cinematographers and more who were just nominated for the 69th annual Primetime Emmy Awards.
From "The Americans" and "Mr. Robot," to "Orange Is The New Black," shows that choose film-friendly Westchester County benefit from authentic locations that can reflect any time period and suit any genre. Location scouts flock here and bold face names enjoy filming here for many reasons.
"Westchester offers unique settings all within a short distance of New York City," says Natasha Caputo, director of Westchester County Office of Tourism and Film. "We can accommodate productions of all sizes; and access is easy by air, car, rail or bus. We also offer a deep talent pool of location scouts, crew, and post production facilities."
Film activity is a win-win for the county, too. Our recent economic impact survey shows that the film and TV industry added more than $30 million to the Westchester County economy in 2016—a 67 percent increase from 2014. The county received $500,000 in permit fee revenues in 2016; and municipalities collected over $700,000.
"Westchester's film and TV industry is booming," beams Westchester County Executive Rob Astorino. "The bottom line is that Westchester is a valuable and viable option for the film industry."
This year, the Emmy Awards, hosted by Stephen Colbert, will air live from the Microsoft Theater in Los Angeles on Sunday, Sept. 17 at 5 p.m. PT. on CBS. Here is the list of Emmy nominations for shows filmed in Westchester:
Drama Actress
Keri Russell ("The Americans")
Drama Actor
Matthew Rhys ("The Americans")
Supporting Actress in a Drama Series
Uzo Aduba ("Orange Is the New Black")
Writing for a Drama Series
Joe Weisberg and Joel Fields ("The Americans")
Guest Actor in a Drama Series
BD Wong ("Mr. Robot")
Guest Actress in a Comedy Series
Becky Ann Baker ("Girls" — "Gummies")
Guest Actress in a Drama Series
Alison Wright ("The Americans" — "The Soviet Division")
Ann Dowd ("The Leftovers" — "The Most Powerful Man In The World (And His Identical Twin Brother)")
Laverne Cox ("Orange is the New Black" — "Doctor Psycho")
Cinematography for a Single-Camera Series (Half-Hour)
Reed Morano ("Divorce")
Cinematography for a Single-Camera Series (One Hour)
Tod Campbell (Mr. Robot")
Creative Achievement in Interactive Media Within a Scripted Program 
USA Network, Universal Cable Productions, Here Be Dragons, Esmail Corp. & Anonymous Content ("The Mr. Robot Virtual Reality Experience")
 Stunt Coordination For a Drama Series, Limited Series Or Movie
Cort L. Hessler III ("The Blacklist")
Christopher Place ("Blindspot")
Norman Douglass ("Gotham")
Thomas Mahoney, Matthew Wheelon Hunt, Alex Gitler, Sina San, Michael Capton, Jon Anastasiades, Ryan Bauer, Mark Anthony Nazal, Randy Little ("Gotham" — "Heavydirtysoul")
Sound Mixing for a Comedy or Drama Series (One Hour)
John W. Cook II, Bill Freesh, William Sarokin, Paul Drenning ("Mr. Robot")