Briarcliff-Peekskill Trailway
No passport required to marvel at the second-largest hand-hewn stone structure in the world, second only to the Giza Pyramids in Egypt—just hike this trailway to enjoy the magnificent Croton Dam spillway and its cascading waterfall at Croton Gorge Park. Or delight in panoramic views, complete with a birds-eye view of the Hudson River, from the perch of the 560-foot high Spitzenberg Mountain at the Blue Mountain Reservation in Peekskill. In the mood for a more leisurely stroll? Then amble along the unpaved pathways of the 12-mile linear park, built on lands that were originally intended to become a parkway. No bicycles on this trail.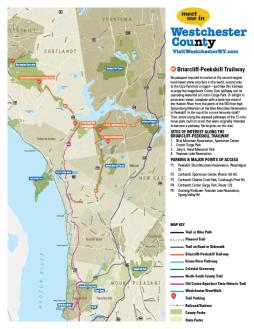 Sites of Interest Along the Briarcliff-Peekskill Trailway
Blue Mountain Reservation, Sportsman Center
Croton Gorge Park
John E. Hand Memorial Park
Teatown Lake Reservation
Parking & Major Points of Access
Peekskill: Blue Mountain Reservation, Washington St.
Cortlandt: Sportsman Center, Watch Hill Rd.
Cortlandt: Charles Cook Park, Colabaugh Pond Rd.
Cortlandt: Croton Gorge Park, Route 129
Ossining/Yorktown: Teatown Lake Reservation, Spring Valley Rd.