North-South County Trailway
This paved, multi-use trail spans 36.2 miles through Westchester County, 22.1 miles comprise the North County Trailway, from Eastview in the Town of Greenburgh north to Putnam County. The remaining 14.1 miles, south to the New York City border make up the South County Trailway. The North-South County Trailway is situated on what was part of the former Putnam Division of the New York Central Railroad. The "Old Put," as it was fondly referred to by commuters, provided freight and passenger service from 1881 to 1958 between the Bronx and Putnam County.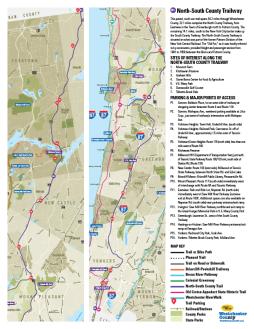 Sites of Interest Along the North-South County Trailway
Muscoot Farm
Kitchawan Preserve
Graham Hills
Stone Barns Center for Food & Agriculture
V.E. Macy Park
Dunwoodie Golf Course
Tibbetts Brook Park
Parking & Major Points of Access
Somers: Baldwin Place, lot on west side of trailway at shopping center between Route 6 and Route 118
Somers: Mahopac Ave., weekend parking available at Jilco Corp., just west of trailway's intersection with Mahopac Ave.
Yorktown Heights: Town Hall, Underhill Ave. (south side)
Yorktown Heights: Railroad Park, Commerce St. off of Underhill Ave., approximately 1.5 miles east of Taconic Parkway
Yorktown/Croton Heights: Route 118 (north side), less than one mile west of Route 100
Kitchawan Preserve
Millwood: NYS Department of Transportation Yard, just north of Taconic State Parkway Route 100/133 exit, south side of Station Rd. (Route 133)
New Castle: Route 100 (east side), Millwood at Taconic State Parkway, between North State Rd. and Echo Lake
Briarcliff Manor: Briarcliff Public Library, Pleasantville Rd.
Mount Pleasant: Route 117 (south side) immediately west of interchange with Route 9A and Taconic Parkway
Eastview: Park-and-Ride Lot, Neperan Rd. (north side) immediately west of Saw Mill River Parkway Eastview exit at Route 100C. Additional spaces are also available on Neperan Rd. (south side) near parkway entrance/exit ramp
Irvington: Saw Mill River Parkway northbound exit ramp to the Great Hunger Memorial Park in V. E. Macy County Park
Greenburgh: Lawrence St., west of the South County Trailway
Hastings-on-Hudson: Saw Mill River Parkway entrance/exit ramp at Farragut Ave.
Yonkers: Redmond City Park, Cook Ave.
Yonkers: Tibbetts Brook County Park, Midland Ave.