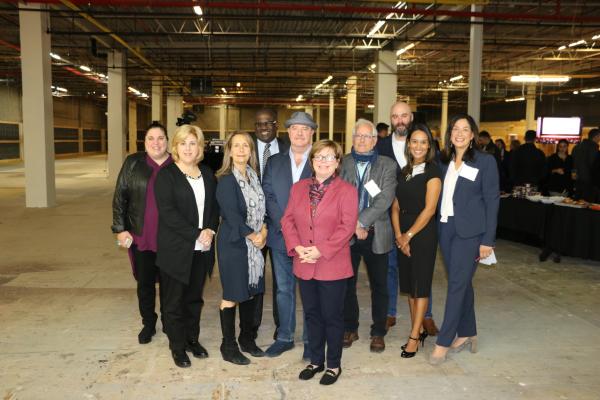 Film and television production is a booming business, and Westchester County is in a strong position to benefit from it, producer Declan Baldwin, CEO of Big Indie Pictures, told more than 125 business people, municipal officials and production professionals gathered at a movie studio in Mount Vernon earlier this month.
"There's a wave of content the likes of which we've never seen before," Baldwin said. "How do you capitalize on it and what do you do next?" That topic was the basis for lively discussions hosted by Westchester County at Haven Studios NY, a state-designated qualified production facility and the County's largest studio. Designed to attract film production to Westchester, the event also celebrated the surge in production activity in this film-friendly county.
Baldwin—a Yonkers native who has had producing roles on 28 feature films and television productions including "Manchester by the Sea," "Still Alice," and "Captain Fantastic"—was the featured speaker. "Now the wave has arrived," he said. "Suddenly, Westchester County is not in another country. You can get people here easily. [Westchester County] does have a great deal to offer in terms of selections of sites and in terms of location. …And here's where each municipality has to make a decision. Are we in it or not?"
"We are experiencing a film boom in Westchester County," notes Westchester County Executive George Latimer. "Our film-friendly locations are diverse and interesting, and are featured in more film, commercial, and television production than ever before. Film is important economic driver for Westchester County. We are committed to growing the industry here."
For the panel discussion, Baldwin was joined onstage by Ernie Karpeles, location manager for commercials; Tom Scutro, location manager for film and television; Melissa Velez-Goldberg, director of the Mayor's Office of Film & Photography in the City of Yonkers; and moderator Natasha Caputo, director, Westchester County Tourism & Film.
Productions seek transparency, flexibility and understanding
To encourage and capture the economic benefit of production activity, speakers recommended that municipalities make their film policies, permit guidelines and fee structures very clear. They also suggested each business and municipality engaged with the industry should designate a liaison to coordinate production and relationships between filmmakers and the community. 
"It's good to have a go-to person in the town who understands the needs of productions," said Karpeles. "Commercial shoots tend to have a more hectic pace, but operate with much less equipment, say, one or two trucks and 50 people. A feature film may employ a cast and crew of 200 and come with 20 tractor-trailers. Understanding what each type of production requires will enable you to anticipate and meet their needs."
Flexibility is critical to the production process, added Scutro. "We are a creative business. We [location managers] are a slave to the writers. We try to be up front, but things can change. We need to communicate with you as soon as they do. It's about establishing relationships."
Goldberg-Velez also encouraged businesses and municipalities to expect and embrace the unpredictability of the film industry. She recalled closing a parking garage for a shoot in Yonkers. "We planned it to take place before business hours, but the creative changed. It went over [time] and we started getting phone calls. But we made it happen. Keep the communication open, be flexible, and try to roll with it."
Westchester County Tourism & Film is available to help, added Caputo. "Consider us an extension of your team. We're here to help facilitate and navigate and make it as easy as possible to film here."
Resources offered by the Westchester County film team include permit navigation and location scouting. Contact us for more information.