Another feather in Westchester County's film industry cap! Nitrous Ltd., a leading provider of video content for agencies, broadcasters, and corporations, has moved its operations to White Plains from Manhattan. Founder and CEO Paul C. Rosen chose a spacious, state-of-the-art studio just steps from the North White Plains Metro North station, where full production and postproduction services to the film, TV, and corporate business industries are being provided.
We spoke to Paul to find out what drew him to Westchester, and what he sees as the impact of doing business here will mean for future production work.
Film Office: What type of work has Nitrous done over the years and for whom?
Paul C. Rosen: We work with a diverse range of clients—from networks like Disney, ESPN, and HBO, to advertising agencies and Fortune 500 companies. Over the years many celebrities have been in our studios to either oversee work or do voice overs, like John Legend, Usher, and Kiefer Sutherland. We've also worked on high-profile ad campaigns such as The Sopranos, Sex and the City, Major League Baseball, and National Football League commercials, and independent films.
FO: What prompted your move to Westchester County?
PCR: We were in Manhattan for 20 years and then our building was sold. After exploring Manhattan, Queens, and New Jersey, the cost of doing business there just didn't make sense. So, we looked to Westchester. We found a great realtor who understood our needs, and found us the kind of space we needed. The move made a difference in my quality of life, too. Before, my commute made me miss key moments in my kids' lives. Now, I have a five-minute commute and I'm much more productive in the studio.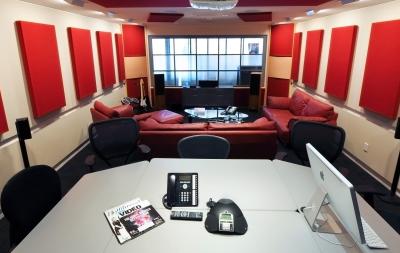 FO: Tell us about your new studio.
PCR: The studio has five edit/design suites, a color grading room, a large voice-over booth, numerous workstations, a 7.1 Surround Sound screening/conference room, and a proper server room. Since it can't be all work and no play, we also have a pool table, 80's arcade games, and a Guns-N-Roses pinball machine!
FO: Now that your business is here, what will that mean for productions that film in Westchester?
PCR: We can offer easy access to full production and postproduction services. That includes concept development, scriptwriting, directing, shooting, editing, finishing—even designing web/app platforms for showcasing that work.
FO: What's the best part of working in Westchester?
PCR: Doing business here has been a complete pleasure. Things are so much easier. Our studio is centrally located, not only to the train, but to major highways as well. The Westchester County Office of Tourism & Film has been amazing, and so has the White Plains Mayor's Office. They work very hard to bring community together and to create a positive environment in which to do business.
Finding great talent here has also been a breeze. Not only is it easy for freelancers to come to the studio by doing an easy and comfortable reverse commute, but there are also very talented people who live in Westchester. I have met producers, directors, editors, designers, sound engineers and other key industry talent, right in the studio's new backyard. Additionally, because of advances in technology, we are able to have people work remotely around the country. Hey, I'm a perfect example of "a great talent" who regularly made the commute to Manhattan from Westchester!