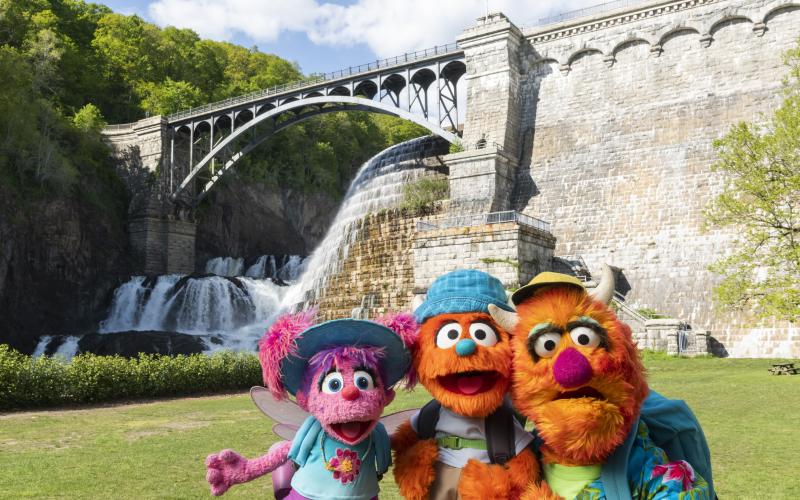 When the world shut down in March due to the COVID-19 pandemic, even "Sesame Street" took to Zoom. Elmo and Big Bird taught kids about washing hands and staying safe with the help of medical experts such as Dr. Sanjay Gupta. 
And when producers wanted "Sesame Street's" colorful community of friendly monsters and neighborly humans to take a breath of fresh air, location scout Marc Auerbach turned to Westchester County. 
"The idea was to create content that looked different from a Zoom call done from home," says Auerbach, whose experience includes commercial shoots for fashion and sports and independent and feature films. "We wanted a country destination with fruit trees and livestock, and we wanted space to spread out and film safely."
He found the ideal location in northern Westchester at Harvest Moon Farm & Orchard in North Salem. With 100 acres of bucolic landscapes and panoramic hilltop views, including 25 acres of apple orchards and fields brimming with produce, the farm offered the rural aesthetic Auerbach sought. There were practical benefits, too.
"Their staff became a seamless part of our team," says Auerbach. "They worked with us 12 hours a day to help us navigate the farm and work with their animals. We used their hay wagon for transportation and had enough space to build a base camp."
Kristina Jahaly, who coordinates film production at Harvest Moon, among other roles, points out that film productions are attracted to the farm because of its natural beauty. 
"For productions looking for open space, we fit the bill," she says. "Harvest Moon is the first apple orchard north of New York City. We also have beautiful views, lots of growing fields, and several interesting structures, including a large storage barn, a smaller animal barn, and pens with goats and chickens."
After experiencing smooth sailing with Sesame Street, the farm is eager to welcome more film production, she said. "This was our first encounter and it was great. We even had one of our farmers featured. It was a positive experience for everyone." 
Space and support 
Harvest Moon also offers plenty of room for safe production in accordance with the New York Forward guidelines.
The "Sesame Street" shoot took place over eight days at the farm. The production's base camp took shape in the middle of a field, with room for 65 cast and crew members, according to Auerbach, who also provided COVID-safety services through his firm, Safe Production Services. As the set's health and safety supervisor, he ensured all health protocols were followed, including hand-washing stations and field nurses to perform COVID testing. 
Performing the safety roles on top of traditional location services required extra time and effort, Auerbach noted, but he had plenty of support to manage the process. 
"It all worked because we had support of the staff at the farm, the Town of North Salem, and our liaison at the Westchester County Film office. There was no bureaucracy or resistance. I've never had such a pleasant experience and so much help. There's a wonderful, 'can-do' attitude there. We felt very looked after and welcomed. I can't wait to bring productions back to Westchester. It has all the resources film productions need."