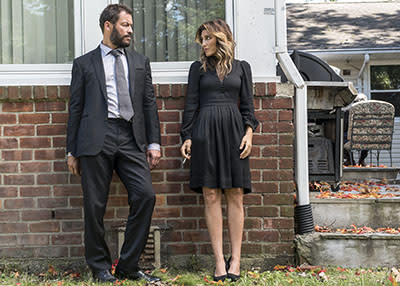 The crowd is hushed, the envelope torn, a glittering star pronounces the winner, and it is... Westchester County!
Each year, Westchester County plays a prime role in top feature films, thoughtful Indies, award winning television and cable shows, and scores of commercials and videos. While some might thrill to the reveal of a fresh crop of Oscar and Emmy contenders, we here in Westchester anxiously await the two thumbs up from another source—County Executive Robert P. Astorino.
"I won't go as far as saying that our Westchester locations guarantee Golden Globes or Emmys, but we have a pretty impressive track record of being the destination of choice for the best of the best," he notes.
Here, for your consideration, are County Executive Astorino's picks for the top screen moments in Westchester County in 2016:
"The Girl On The Train" (Dreamworks Pictures/Universal): This psychological thriller owed its idyllic suburban exterior scenes to locations in Tarrytown, Irvington, Dobbs Ferry, Hastings-on-Hudson, Ardsley, and White Plains.
"The Affair" (Showtime) Scenes from this tale about the destruction of two marriages were set in Yonkers, with prison scenes filmed at Westchester County Correctional Facility.
"Homeland" (Showtime): This hit drama often finds itself in Westchester for filming, and in 2016, the show filmed at Westchester County Correctional Facility.
"Divorce" (HBO): Sarah Jessica Parker and Thomas Hayden Church untied the knot against the beautiful backgrounds of Hastings on Hudson and Saxon Woods this year.
"Elementary" (CBS): This show, starring Lucy Liu, has filmed in various spots around the county, including White Plains. Scenes this year were shot in Saxon Woods and in the Pleasantville Diner.
"The Americans" (FX): When searching for picture perfect American settings, it's no surprise that Westchester County was the location of choice for this spy drama. This year, the show filmed at Playland and Croton Gorge Park.
"Mr. Robot" (USA Network): This Golden Globe winning, Emmy nominated show put its vigilante hackers in the historic setting of Lenoir Mansion in Hastings on Hudson.
"Madam Secretary" (CBS): Both Kensico Dam Plaza and Tibbetts Brook Park were Westchester County backdrops in this political drama starring Tea Leoni.
"Blind Spot" (NBC): The mystery behind this FBI drama slowly unraveled in locations around Westchester County, including Tibbetts Brook Park in Yonkers.
"The Blacklist" (NBC): This crime drama starring James Spader is a frequent visitor to Westchester. 2016 was no exception, as the cast and crew headed to Glen Island Beach in New Rochelle for filming.
From beautiful parks and shorelines to historic Main Streets, suburban neighborhoods, and busy urban sites, the County has earned a reputation as a film location of choice for the industry's top producers. The reason? According to County Executive Astorino, Westchester's allure is largely due to its outstanding location and its film location services.
"The county is incredibly attractive for filming because it offers so many unique locations without having to travel far," he says. In addition to backdrops that let scenes shift effortlessly from urban to bucolic, present day to retro, Westchester is also a peaceful place for weary cast and crew to rest after a long day's shoot. "Our stunning hotels not only serve as great locations, they also offer a comfortable retreat for everyone to stay."
Westchester County delivers an added bonus to production crews: its Tourism & Film team has a sophisticated understanding of the industry's needs, and provides expert service to facilitate production in Westchester.
While awards and accolades aren't guaranteed by simply filming in Westchester, according to Mr. Astorino, it certainly doesn't hurt.
"Producers should come to Westchester to be in stellar company. You never know, you might end up on my list next year, or even better, you might end up at the Oscars!"