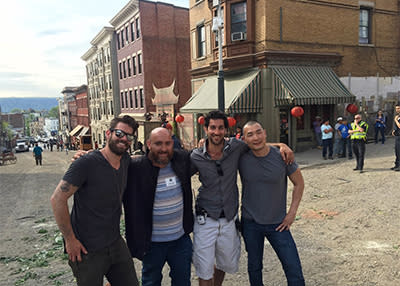 It's another strong year in Emmy nominations for television shows filmed in Westchester, with Orange is the New Black coming up big in the top categories, including outstanding drama series and best supporting actress. The Good Wife, The Americans, The Blacklist, and Boardwalk Empire are other top shows that snagged nominations, signaling the quality of film productions happening in Westchester County.
"When popular shows like these are recognized, it spotlights Westchester County, where the film and television industry is alive and well—and growing bigger each year," says County Executive Rob Astorino. "We congratulate all of the talented professionals whose hard work led to the nominations and we are hoping for big Emmy wins in September."
Westchester County attracts film and TV production because of its film-friendly climate and the diversity of location options, says Natasha Caputo, director of Westchester County Tourism & Film.
"You'll find just about any backdrop required —from small town scenes and urban landscapes, to sweeping river views, historic mansions, a film-friendly airport, jail, and several hotels," she notes. "We work very closely with industry professionals to find just the right location to meet their needs. We're proud of the work they do here, which also has a positive economic impact on our local economy."
In the image above, the location team transformed a Yonkers street into a turn of the century cityscape for The Knick (Cinemax), which earned several Emmy nominations including best directing, hairstyling, and makeup. Left to right: Jordan Bowes, Location Manager Rob Striem, Christopher Wos, and Hyo Park.
The 67th annual Primetime Emmy Awards will air Sunday, Sept. 20, at the Microsoft Theater in Los Angeles, hosted by Andy Samberg and broadcast live on Fox.
And the Emmy nominations for shows filmed in Westchester go to:
Outstanding Drama Series
"Orange is the New Black"
Supporting Actress, Drama
Christine Baranski, "The Good Wife"
Uzo Aduba, "Orange Is The New Black"
Guest Actor, Drama
Alan Alda, "The Blacklist"
Michael J. Fox, "The Good Wife"
Pablo Schreiber, "Orange Is The New Black
Guest Actress, Drama
Margo Martindale, "The Americans"
Supporting Actor, Comedy
Adam Driver, "Girls"
Guest Actress, Comedy
Gaby Hoffmann, "Girls"
Writing for a Drama Series
Joshua Brand for The Americans, "Do Mail Robots Dream Of Electric Sheep?" from FX Networks, Fox 21 Television Studios and FX Productions
Directing for a Drama Series
Tim Van Patten for Boardwalk Empire, "Eldorado" from HBO, HBO Entertainment in association with Leverage, Closest to the Hole Productions, Sikelia Productions and Cold Front Productions
Steven Soderbergh for The Knick, "Method And Madness" from Cinemax, Cinemax Entertainment in association with Ambeg Screen Products, Anonymous Content and Extension 765
Outstanding Casting for a Drama Series
Jennifer Euston for "Orange Is The New Black" from Netflix, Lionsgate Television for Netflix
Outstanding Cinematography for a Single-Camera Series
Boardwalk Empire • Golden Days For Boys And Girls • HBO • HBO Entertainment in association with Leverage, Closest to the Hole Productions, Sikelia Productions and Cold Front Productions, Jonathan Freeman, ASC, Director of Photography
The Good Wife • The Line • CBS • Eye Productions in association with Scott Free Productions and King Size Productions
Fred Murphy, ASC, Director of Photography
Outstanding Costumes for a Period/Fantasy Series, Limited Series Or Movie
Boardwalk Empire • Golden Days For Boys And Girls • HBO • HBO Entertainment in association with Leverage, Closest to the Hole Productions, Sikelia Productions and Cold Front Productions
John Dunn, Costume Designer
Maria Zamansky, Assistant Costume Designer
James P. Hammer, Jr., Assistant Costume Designer
Joseph LaCorte, Assistant Costume Designer
Outstanding Hairstyling for a Single-Camera Series
Boardwalk Empire • Eldorado • HBO • HBO Entertainment in association with Leverage, Closest to the Hole Productions, Sikelia Productions and Cold Front Productions
Francesca Paris, Department Head Hairstylist
Lisa De Jesus, Key Hairstylist
Sarah Stamp, Key Hairstylist
The Knick • Get The Rope • Cinemax • Cinemax Entertainment in association with Ambeg Screen Products, Anonymous Content and Extension 765
Jerry DeCarlo, Department Head Hairstylist
Rose Chatterton, Key Hairstylist
Suzy Mazzarese Allison, Personal Hairstylist
Victor De Nicola, Hairstylist
Christine Cantrell, Hairstylist
Outstanding Makeup for a Single-Camera Series (Non-Prosthetic)
Boardwalk Empire • What Jesus Said • HBO • HBO Entertainment in association with Leverage, Closest to the Hole Productions, Sikelia Productions and Cold Front Productions
Michele Paris, Department Head Makeup Artist
Joe Farulla, Key Makeup Artist
Game Of Thrones • Mother's Mercy • HBO • HBO Entertainment in association with
The Knick • Method And Madness • Cinemax • Cinemax Entertainment in association with Ambeg Screen Products, Anonymous Content and Extension 765
Nicki Ledermann, Department Head Makeup Artist
Stephanie Pasicov, Key Makeup Artist
Sunday Englis, Key Makeup Artist
Cassandra Saulter, Makeup Artist
Michael Laudati, Makeup Artist
LuAnn Claps, Personal Makeup Artist
Patricia Keighran, Key Makeup Artist
Susan Reilly-Lehane, Personal Makeup Artist
Outstanding Prosthetic Makeup for a Series, Limited Series, Movie, or a Special
Boardwalk Empire • The Good Listener • HBO • HBO Entertainment in association with Leverage, Closest to the Hole Productions, Sikelia Productions and Cold Front Productions
Michele Paris, Department Head Makeup Artist
Joe Farulla, Key Makeup Artist
The Knick • Crutchfield • Cinemax • Cinemax Entertainment in association with Ambeg Screen Products, Anonymous Content and Extension 765
Justin Raleigh, Special Makeup Effects Department Head
Kevin Kirkpatrick, Key Special Makeup Effects Artist
Kelly Golden, Special Makeup Effects Artist
Ozzy Alvarez, Special Makeup Effects Artist
Danielle Noe, Special Makeup Effects Artist
Bernie Eichholz, Special Makeup Effects Artist
Michael Ezell, Special Makeup Effects Artist
Kodai Yoshizawa, Special Makeup Effects Artist
Outstanding Sound Editing for a Series
Boardwalk Empire • The Good Listener • HBO • HBO Entertainment in association with Leverage, Closest to the Hole Productions, Sikelia Productions and Cold Front Productions
Fred Rosenberg, Supervising Sound Editor
Bill Orrico, Sound Editor
Roland Vajs, Sound Editor
Ruy Garcia, Sound Effects Editor
Jeffrey Stern, Dialogue Editor
Annette Kudrak, Music Editor
Steve Visscher, Foley Editor
Mark Costanzo, Foley Artist
Outstanding Special Visual Effects in a Supporting Role
Boardwalk Empire • Golden Days For Boys And Girls • HBO • HBO Entertainment in association with Leverage, Closest to the Hole Productions, Sikelia Productions and Cold Front Productions
Lesley Robson-Foster, VFX Supervisor
Parker Chehak, VFX Producer
Douglas Purver, Compositor
Paul Graff, VFX Supervisor
John Bair, VFX Supervisor
Greg Radcliffe, Digital Artist
Rebecca Dunn, Compositing Supervisor
Aaron Raff, Lead Digital Artist
Steven Kirshoff, Special Effects Forman
Outstanding Stunt Coordination for a Drama Series, Limited Series Or Movie
The Blacklist • NBC • Davis Entertainment in association with Sony Pictures Television
Cort L. Hessler III, Stunt Coordinator
Boardwalk Empire • HBO • HBO Entertainment in association with Leverage, Closest to the Hole Productions, Sikelia Productions and Cold Front Productions
Christopher Place, Stunt Coordinator