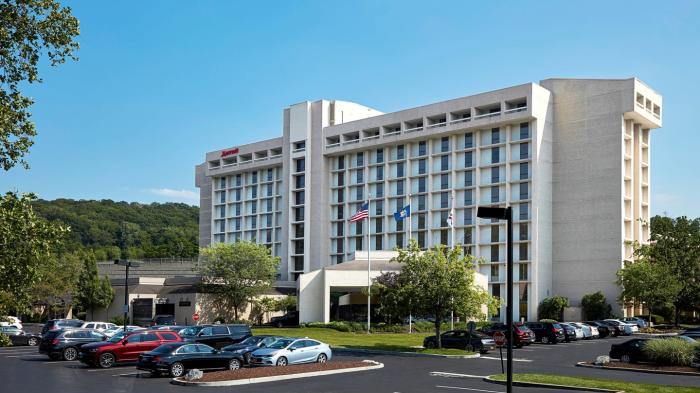 It's not every hotel that would allow a film crew to stage a scene where a character leaps out of a window into a pool, only to emerge and run out of the hotel's grand front entrance. But then again, the Westchester Marriott Hotel in Tarrytown is not just any hotel.
A popular, film-friendly location known for its diverse backdrops and "can-do" attitude, the Westchester Marriott now has taken an extra step. It has been designated a Qualified Production Facility (QPF) by the New York State Governor's Office of Motion Picture & Television Development. Now, filming at the hotel helps productions check off one of the boxes required to capture generous New York State tax credits. "The process was fairly simple," said Michelle Barry, destination sales executive at the Westchester Marriott. And now, with the designation, we're getting calls from productions that are interested in shooting at our location."
"Our property has enjoyed quite a bit of film activity over the years," Barry recalled. "Filming is definitely an out-of-the-box revenue generator for a hotel, but the excitement and energy it brings to our property is undeniable. We get a real thrill seeing one of our guest rooms in a scene during an episode of 'The Blacklist'!"
Over the years, the Westchester Marriott has welcomed episodic television shows such as "The Blacklist," cable hits like "Unbreakable Kimmie Schmidt," and a host of commercial shoots. In addition to its 444 guest rooms, the Westchester Marriott boasts grand ballrooms, 23,000 square feet of meeting space, an indoor pool – with a vaulted glass retractable roof – a graciously appointed lobby, leafy terrace, and an 800-space parking lot.
Barry notes that her team's flexibility also supports their film boom. "When a production wants to shoot in our lobby, we've been able to identify the best timeframe so they can get their shot with minimal disruption to our guest flow," she says. "We've also had crews come just for our parking lot, which has plenty of room for trailers and crews to set up a basecamp."
These days, Westchester Marriott is also observing a range of health and safety protocols to keep crews, talent, and guests safe and healthy. Shared spaces are rigorously cleaned throughout the day, hand sanitizing stations are ubiquitous, and mask-wearing and social distancing are enforced.
As a QPF, Westchester Marriott offers a unique location that's inside the film zone and is also film savvy. "For productions that are looking for the affordability and wide-open spaces that Westchester offers, our QPF status creates an additional incentive and savings that make filming in Westchester even more desirable."