Montefiore Health System commercial filmed in Westchester
An Inside Look at Commercial Location Scouting with Carey DePalma
A seasoned location professional, Carey DePalma has scouted for feature films such as "Men in Black 3," "Trainwreck," and "Army of the Dead." Alongside her contributions to the film industry, she also excels in finding ideal settings for commercial shoots and has worked on projects including the ArtsWestchester "Serious Fun Fair," a National Dairy Council production filmed in Yonkers, an Adidas shoot at Concordia College, and an Epura Water project at Tarrytown Music Hall. Most recently, she worked with location manager Ko Niizuma on an award-winning Montefiore Health System campaign (see video above), filming in Rye, Tarrytown, White Plains and Yonkers. We sat down with Carey who shared her insights on best practices for scouting commercials and the advantages of filming in Westchester County.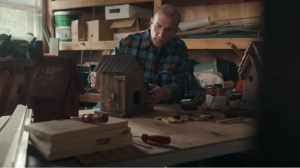 Q: How did you become a location scout? 
A: My journey into the field of location scouting began unexpectedly. I had taken a semester off college and needed a few more credits to complete my degree. That's when I fell into an internship on a movie through a personal connection. Little did I know it would ignite a passion within me. The industry was smaller back then, and I found the experience fascinating. Being a "people person," I felt drawn to this line of work, though I wasn't entirely sure about my career path then. So, it was a combination of circumstances and genuine interest that led me into the world of location scouting. 
Q: What is a typical day in the life of a location scout like? 
A: It varies depending on the type of production. Commercial shoots are more condensed as compared to films or TV shows. I might receive a mood board or outline before a treatment or script. The scout's role involves casting a wide net to find potential locations that fit the project's requirements. It's a process.  I always like to say that the blob of clay starts to take on a shape while scouting. Once the criteria are established, the scout contacts their network of usual suspects—locations that have been flexible and accommodating in the past. This is crucial when it comes to commercial shoots because the turnaround time is so fast, which can be an obstacle for many municipalities.   
Q: What are the essential needs or must-haves for a commercial production from a location scout's perspective?   
A. First, cooperation is essential. The willingness of the location owner and the local municipality to support the filming activities is crucial because timelines for commercial shoots are quick. It helps to clearly communicate this to municipalities so that they understand this factor before they say yes.  
 
Second, a variety of looks helps in finding locations that are a good fit for a project.  Fortunately, Westchester offers an abundance of possibilities for location scouting. It's also close to New York City and many locations are in the film zone, making it a strategic haven for commercial production teams.  Westchester County offers a wealth of diversity, depth, and natural beauty, from the sleek buildings of White Plains, reminiscent of Washington D.C., to the grandeur of Harrison's majestic homes, the urban feel of Mt. Vernon and an array of parks, rivers, and lakes.  
Finally, accessibility is important. The location should be open to accommodating the production's requirements and be willing to work together to make the project successful. For example, with Montefiore, we had a lot of criteria to find the right parks. You can't bring big heavy equipment two miles down a hiking path to get the right shot, so parking and accessibility to the filming area are key.   
Q: With all the work you do in Westchester, do you have any favorite vendors or places to eat when filming here? 
A: One of my favorite haunts is Casa D'Italia Sandwich Shoppe in Harrison.  Westchester offers a diverse range of dining options, and it's fun to explore the local food scene while on location.