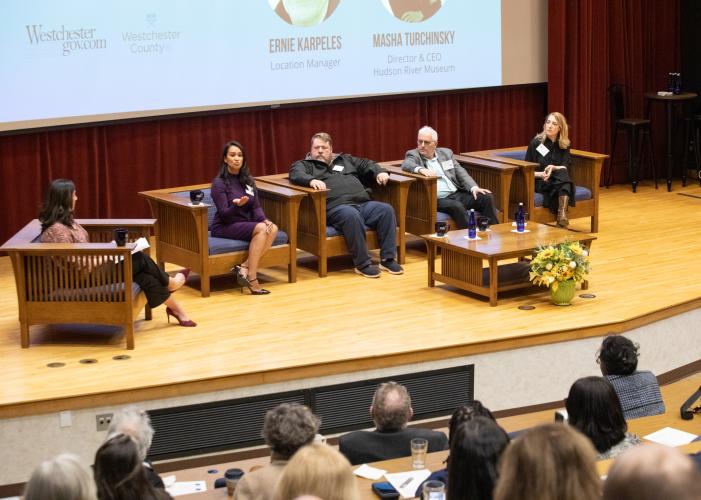 While being film-friendly doesn't require a background in film production, understanding the process, being enthusiastic, and being responsive go a long way, according to experts convened by Westchester County Tourism & Film at Edith Macy Center, itself a frequent film location for some of today's hottest television shows.
The February event, "Your Role in Film Production in Westchester," brought industry professionals together with over 150 representatives from Westchester municipalities, hotels, theaters, college campuses, historic sites, museums, and film studios. The goal of the event was to celebrate Westchester's booming film sector, which has more than $1 billion of annual economic impact in the County, and to help properties and municipalities attract and better serve productions.
Natasha Caputo, director of Westchester County Tourism & Film, moderated a panel that included Melissa Velez-Goldberg, director of Yonkers' Office of Film and Photography; Ernie Karpeles, location scout and manager; Mike Hartel, location manager, and Masha Turchinsky, director and CEO of the Hudson River Museum. They offered practical advice and tips on how communities and attractions can accommodate the industry professionals who scout in Westchester and make decisions on whether to bring feature films, commercials, and episodic television shows here to film.
Here are their top recommendations:
1. Get your documents in order.
"Don't wait for the call from a location scout to get your documents in order," advised Turchinsky. Those may include non-disclosure agreements or stipulations about what access a production has to your location. For example, the Hudson River Museum, which Turchinsky oversees, has irreplaceable art and other objects that must be protected. "So, we have communications that convey certain areas are off-limits and our one-of-a-kind pieces are not to be used as props. If you want to increase your film business, start the process internally so when that magical call for filming does come in, you'll be ready," she said.

2. Designate a film liaison for your location or property.
"It's much easier to scout and film in a location where I have a go-to contact to help us from start to finish," said Karpeles. "There's an urgency in filming because of the timing and costs. Having one person who can troubleshoot, solve problems, and reach out to other municipal departments on our behalf is a huge advantage." He pointed to Velez-Goldberg and the City of Yonkers as a location with protocols that facilitate production.
"Establishing relationships with decision makers across city departments has helped Yonkers to bring in more film business," acknowledged Velez-Goldberg. "I have contacts with every single department so we can handle requests for police, fire, parking, street closures and more. Those open lines of communication have been key to our success."
3.  Develop a basic understanding of the production process.
While the process varies by the type of project – be it a feature film, television series, or commercial – knowledge of the location scout's role and the path from script to screen is beneficial for properties seeking to attract production. For example, producing an episode of "FBI: Most Wanted" happens in a span of nine days, explained Hartel.
Prior to that, about "five to seven days are spent scouting and lining up locations — say, a gas station, woods, a deli next door and house down the street. If the director and designer love what we've scouted, then it's my job to make it a reality within a 24-hour period. That includes permitting, tech scouting with up to 25 department heads, working with businesses and neighbors, laying down cables, and solving a lot of little problems." In other words, putting together a couple of days of filming involves many moving parts. And it's helpful if locations understand what's involved in filming before they sign on.

4. Streamline your process.
The panelists agreed: being film-friendly means having a simple permit process. Said Velez-Goldberg, "We have one permit application. We don't want the process to be complicated because we want to welcome everyone, from student filmmakers to big-time directors. When there's something more intense required for the production, we ask for a letter of intent to be able to effectively communicate what's happening across city departments."
It's also important to review your film policies, added Karpeles. He cited a municipality that required all filming to start after 7 a.m., which didn't work for a production that needed to shoot in the early morning hours. "Once they revised their rule, more business flowed in. Small changes can make a big difference."
5. Establish reasonable film permit and location fees.
"Location managers will steer away from towns that are too expensive," noted Hartel. "Some locations charge $5,000 to $10,000 per day just to film, with location fees on top of that. If it's a location the director really wants and it's the only one of its kind, we'll usually do it. But there's a good middle ground on fees that a lot of towns seem to find, and we gravitate to those towns."
When creating your fee structure, take into account the scale and scope of the production, advised Caputo. "Some commercials may only require 20 people at one location. But if filming is taking place in multiple places and requires hundreds of people and a big footprint, that should be considered."
6. Be responsive.
"Expect the unexpected," advised Hartel. "We love working with locations who want filming. But we also want them to know what comes along with it. Know that demands will be placed on you and your location."
That might mean multiple visits before filming ever starts, to plan and block the shoot, and having up to 200 people on site. "There's a lot at stake and we appreciate your timely response. Having your location seen by others and receiving the money associated with filming is great, but just know the responsibilities that it entails."
Flexibility is also key, added Turchinsky. "We're very nimble. When we have filming, we look at the internal schedules and discuss the impacts to our staff. We work with the production crews to make sure that there's ample signage and communication. We work with the city of Yonkers to make sure parking is all set up. We keep communicating to ensure there are no surprises. But if there are, we are pretty unflappable because we've planned ahead."
7. Know that film production teams want it to work — for you and for them.
"We ask for a lot, but we try to be good stewards to the locations where we film," explained Hartel. "Yes, sometimes we want to make something explode, but we want to do it within the rules that exist. It's incumbent upon us to be good neighbors so that we are welcomed back." He recommended working hand-in-hand with film production teams to reap the economic benefits. "We're shooting 22 episodes a year. We're here to stay and the economic benefits are real."

His fellow panelists agreed on the importance of the industry to the local economy. Karpeles encouraged municipalities thinking about getting into the film business to get active now. "Filming after COVID moved north and as an industry, we got a taste of how wonderful it is to film in Westchester. The possibility of growth is huge and the opportunity is now."