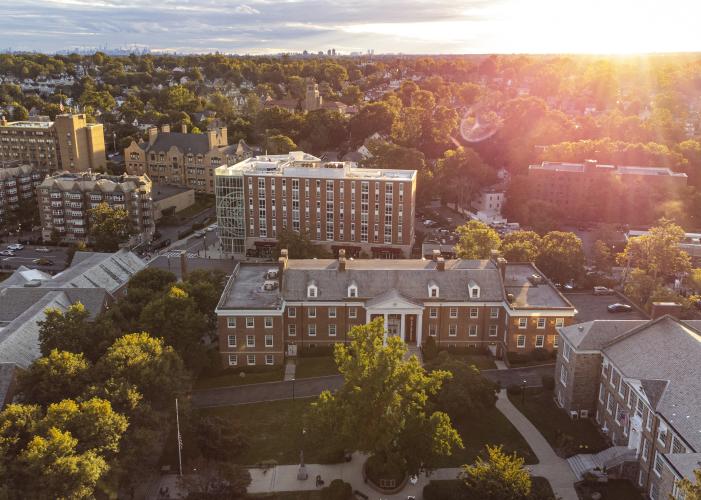 When your script calls for stately brick buildings, athletic fields, classrooms, auditoriums, or a classic quad, Westchester County is home to a rich variety of higher education institutions with over two dozen campuses and satellite locations. They offer a wide array of looks including urban brick plazas with modern art and Gothic revival castles. 
While their primary focus is on education — including several programs to train up-and-coming filmmakers — Westchester's college campuses offer versatility and proximity to New York City, making them easy choices for productions. 
Pace University is a prime example: the 200-acre campus in Pleasantville has served as a location for a Netflix series starring Brie Larson series and
the feature film "Inside Llewelyn Davis." With plenty of room for parking and ancillary production space, it was also used as a base camp for HBO productions including "The Time Travelers Wife" and "The Gilded Age." 
Says Kristen Leigh Vinciguerra, associate director of special events, "We welcome filming and try to make it as easy as possible. We offer lots of green space and diverse facilities that can be used for wardrobe, makeup and craft services. We also designate an on-site liaison for production assistance from start to finish and have reasonable rates." 
Iona University's 45-acre New Rochelle, in the NYC film zone, features manicured walkways and traditional college looks, with several 100+ year old buildings dotting the landscape. The college president's home appeared in several scenes of Steven Spielberg's  "The Post," and since then, Iona has hosted several additional productions for filming and base camp, including "FBI: Most Wanted" (CBS), "The White House Plumbers" (HBO), "Have You Seen This Man" (ABC) and the independent film, "The Day The Music Died/American Pie." 
Film productions are attracted to Iona's architecture, space for parking, and facilities for trailers and crews," according to Kimberly Winston, manager of conference services. "My background is hospitality and we approach our work with the industry with that spirit," she notes. "We hear from productions that we are easy to work with, and that's because our focus is on being flexible and providing good service."  
Campuses offer flexible space for creative crews. For example, a clearing at Purchase College was transformed into a Vietnam era Army base for "The Post." The school's Performing Arts Center was used for a concert scene in "Marry Me," a 2022 feature film starring Jennifer Lopez and Owen Wilson. The former College of New Rochelle has served as a hospital, jail, and various residences for "City on a Hill" (Showtime).Sometimes a campus represents another campus: Sarah Lawrence College in Bronxville represented Bard College in scenes for the Neflix feature, "The Meyerowitz Stories." 
Libraries can become cigar bars, administrative buildings may be transformed into FBI headquarters, and science buildings can stand in for forensic labs. The opportunities are endless, and Westchester's campuses want to help film crews make them happen, says Keisha Martin, director of conference planning at Purchase College. "We welcome filming with open arms."
Interested in filming at one of Westchester's higher education institutions? Get started.