Location team finds looks from Upstate NY to London, all in the zone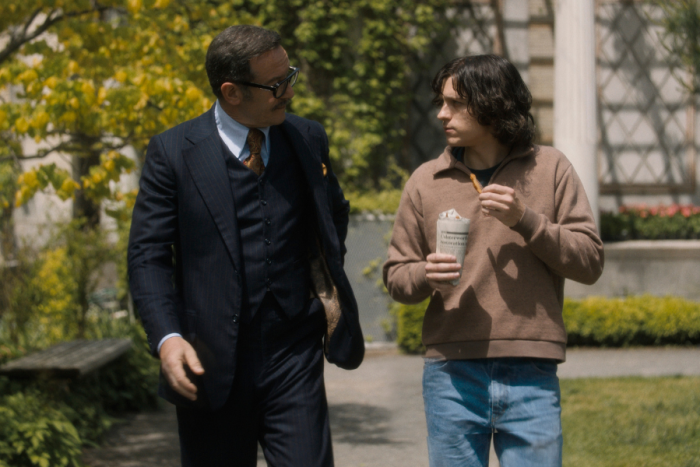 In 2021, Deren Getz was hired to scout locations in the New York film zone to fit the look of an Upstate New York town in the 1970s, for the Apple TV+ limited series, "The Crowded Room." 
"We needed somewhere not too suburban, with more of a rural feel," explains Getz, a seasoned location scout who has worked on "The Equalizer" (CBS), "The Sinner" (USA Network), and the feature film, "21 Bridges," among other projects.  
After a few meetings with the show's creator, Akiva Goldsman, and visiting several locations on both sides of the Hudson River, Getz recommended filming in Hastings-on-Hudson. The producers liked that there were no overpowering buildings or chain stores; it had a vintage vibe with a quaint, not-too-modern Main Street. "It felt more like a Berkshires or Columbia County sort of town," says Getz.  
The 10-part limited series follows Tom Holland as Danny Sullivan, a man arrested in connection with a shooting in New York City in 1979. Told through a series of interviews with interrogator Rya Goodwin (Amanda Seyfried), Danny's life story unfolds, revealing elements of the mysterious past that shaped him, and the events that will lead him to a life-altering revelation.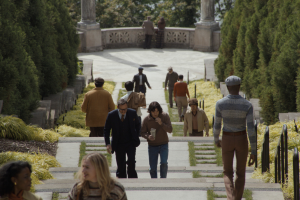 Those plot twists and turns required scenes set in London, where Holland's character travels in search of his father in the fourth episode. The location team found a substitute for Hyde Park in London at Untermyer Park and Gardens in Yonkers, according to Getz. "It has a historic elegance that lent itself to scenes set in a classic garden. It's ethereal, and our art director liked the architecture in particular."  
Westchester County "really came through" with period looks and ease of filming, says Eric Klein, another scout on "The Crowded Room" team. "The buildings in Hastings-on-Hudson are all low and didn't need a ton of dressing to look 1970s," Klein explains. "I try to scout here as much as possible because there are so many looks and we can find almost anything. With space for base camp, shooting in Westchester is a lot easier than in the city. Plus, we have a good rapport with the film office. We love filming here." 
Several scenes for "The Crowded Room" were filmed in Westchester in summer 2022. In addition to Hastings-on-Hudson and Yonkers, locations included private homes in Ardsley and White Plains, and Maria Regina High School in Hartsdale.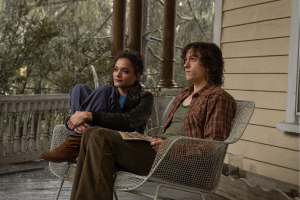 "Westchester is so attractive because of the locations in the zone, the film-friendly towns, and incredibly helpful staff," adds Getz. "The film website also has great resources including a locations map and guide to local film regulations. It's easy to find the film-friendly areas."  
"The Crowded Room" is available on Apple TV+. Photo Credit: Courtesy of Apple.