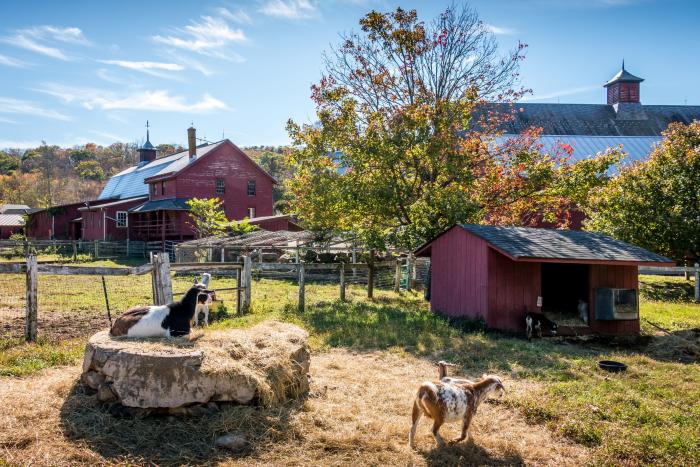 Whether you're filming a heart-warming romance set against rolling hills, a thriller with a creepy scene in a corn maze, or a drama unfolding in a bustling farmyard, filming on location at an authentic farm offers a bona fide, visually engaging backdrop.
Westchester County offers several film-friendly farms to meet your production needs. These working farms and scenic parks offer an authentic experience with live animals and historic buildings, while also providing ample space for film crews to set up tents and/or and accommodate large equipment. Check out our gallery of farm locations here and read on for an overview of what you'll find down on Westchester's farms:
Hilltop Hanover Farm
Located in Yorktown Heights, Hilltop Hanover Farm and Environmental Center is a historic working farm that offers a glimpse into Westchester's agricultural heritage. This 400-year-old farm with cows and goats is part of the Westchester County Parks system and includes 3.5 miles of woodland trails winding through a 120-acre forest. When the trees drop their leaves in the fall, the 60-acre farm features views of the Manhattan skyline and rolling hills for miles. The property features a dairy barn with cathedral-like ceilings and a curved roof line, a 1767 cottage, goat barn, and classroom space. "Our site is truly magical," says Adam Choper, the farm's director The 2011 feature film "The Adjustment Bureau" starring Michael Douglas and Shia LaBeouf filmed at Hilltop Hanover.
Muscoot Farm
Muscoot Farm in Somers is an 800-acre County park with over six miles of scenic trails. Its 19th century farm buildings, including the Milk House, Ice House, Brooder House and Carriage House, offer an ideal setting for historic stories while its winding trails are suitable for contemporary scenes. The farm's versatility sets Muscoot apart, says Jonathan Benjamin, farm manager.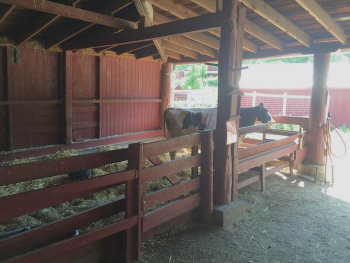 "We can stand in for farms from New England to Iowa and anywhere in between. And we have a huge variety of animals — cows, horses, donkeys, sheep, goats, chickens, turkeys, ducks and pigs — who are very used to human visitors, so they tend to be film-friendly," says Benjamin. 
Adds Benjamin: "We know how vital the film industry is to our area and always go above and beyond when it comes to accommodating production teams." For example, for "Morning Glory," starring Harrison Ford and Rachel McAdams, producers wanted round, not square, bales of hay.  Muscoot worked with a neighboring farm to get what they needed. "Orange Is the New Black" (Netflix) and the Beatles musical "Across the Universe" (Columbia Pictures) have also showcased the farm's rustic charm.
Harvest Moon Farm & Orchard
Harvest Moon Farm & Orchard in North Salem offers a country destination with expansive orchards and picturesque landscapes. The 100-acre farm features apple orchards, fields, and panoramic hilltop views. The farm featured in an episode of Sesame Street, "Elmo Goes to the Farm."
Harvest Moon provided a seamless experience, according to scouts who worked on the production. Farm staff worked 12 hours a day during the shoot to help navigate the property, work with the animals, and access tractors for transporting film equipment. Says Kristina Jahaly, who coordinates film production at Harvest Moon, "for productions looking for wide-open space, we fit the bill. Harvest Moon is the first apple orchard north of New York City. We also have beautiful views, lots of growing fields, and several interesting structures, including a large storage barn, a smaller animal barn, and pens with goats and chickens."
Sundial Farm
Sundial Farm in Yorktown stands out as one of the closest farms to New York City. The classic colonial farm was built in 1780 and has antique barns, a blacksmith cottage, spacious grounds, perennial gardens, a unique birch grove, and specimen trees.  With off-road parking available for vehicles of all sizes, including big rigs and trailers, Sundial Farm provides ample space for film crews. The farm's serene pond, pool, apple orchards, and stone walls have the potential to enhance the visual appeal of any production. Sundial film has served as a backdrop for films and television shows including "American Gangster," "BlacKkKlansman" and "FBI Most Wanted."
Check out our gallery of film-friendly farms!